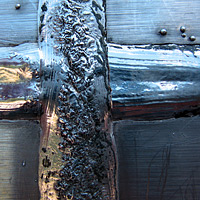 Stations of the Cross is a visual art and music experience in Madison, Wisconsin. The exhibit opened in March 2012, and is installed in 2013 at Blackhawk Church from March 15 to April 22. The exhibit will remain installed through the Blackhawk Pulse Arts Conference.
Learn more about the history and tradition of Stations of the Cross. Check the schedule and location. Learn about the visual artists and musicians and their art and music. Read personal accounts of creating this project, on the blog.
Listen to the music. Coming to the show? If possible, bring a smartphone or tablet computer or handheld CD player, and *earphones*, to listen to music at each station. A few MP3 players are available at the exhibit.
The Stations of the Cross exhibit in Madison Wisconsin is a collaborative effort among 16 artists and musicians to create a week-long art exhibition as an experience of the 14 stations of the Passion of Christ in the final days of his human life.